Equipments /Softwares Available:
Laboratory Details: 
1. Analog and Digital Electronic Circuits Lab :
This Lab provides hands on training in Analog Electronic Circuits, Digital Electronic Circuits, Digital System Design, Microprocessors and Microcontrollers and Embedded System Design. List of Equipments/Softwares : Analog Circuit Trainer Kits Digital Circuit Trainer Kits Microprocessors and Microcontrollers FPGA modules Protocol Conversion and Communication Units Embedded System Design Modules
2. Computer Lab: 
This Lab has got 60 computers with engineering softwares. The simulation exercises carried out will lead to better understanding of the concepts in : Signals and Systems Electrical Machines Power System Modelling Power Electronics Mini and Major Project Execution Computer Aided Design Packages for Design and Analysis of Power Systems, Electrical Machines, Power Electronics, Distribution Systems
3. High Voltage Lab: 
The facilities established will be used for experimentation and demonstration to acquire knowledge in the high voltage area. 
Lab also caters to the needs of Testing and consultancy to local industries in the area of porcelain disc insulator testing, cable testing and insulating oil testing. Apart from this, any specific HV-testing needs of the industry are also taken up based on the feasibility.
List of Equipments:
High Voltage Test System of 0-100 kV, 100 mA HVAC and corresponding High Direct and Impulse voltage generating system Insulating oil test kit 5 kV megger (Tera Ohm Insulation tester) 0-30 kV, 50 mA HVAC source AEPD analyser with linear location system DSO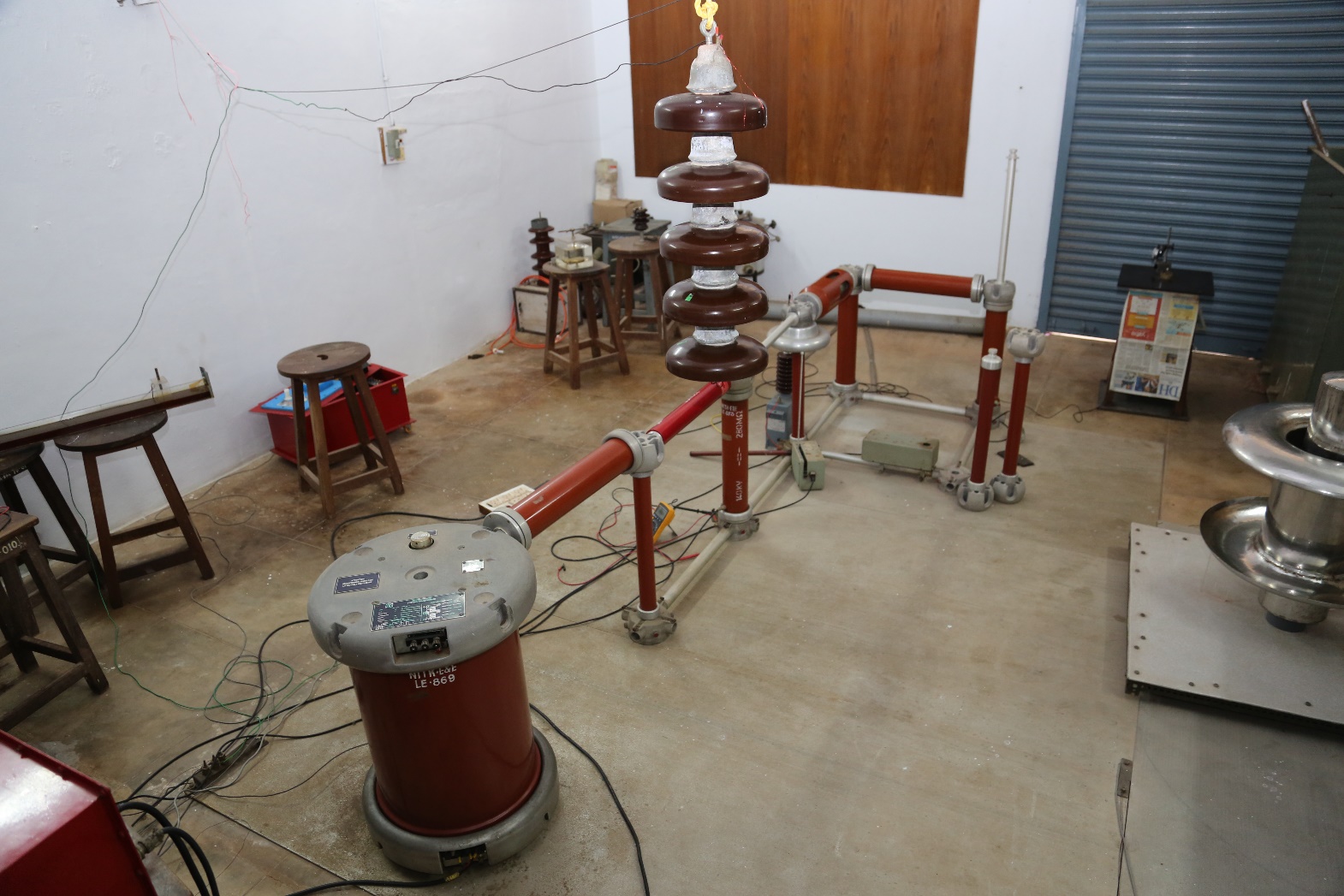 4. Control Systems Lab : 
The practical observation in the control system lab gives knowledge of real-time hands on experience on different control techniques. List of Equipments: Temperature Control Trainer Kit Furnace: Heater Supply, 230V AC/50Hz Lead-lag Compensation Kit DC motor Speed Control Trainer Kit with DC Motor PID Controller Trainer Kit DC Motor Position Control Trainer Kit with DC Motor AC Motor Position Control System with AC Motor Time Response of Second Order System Kit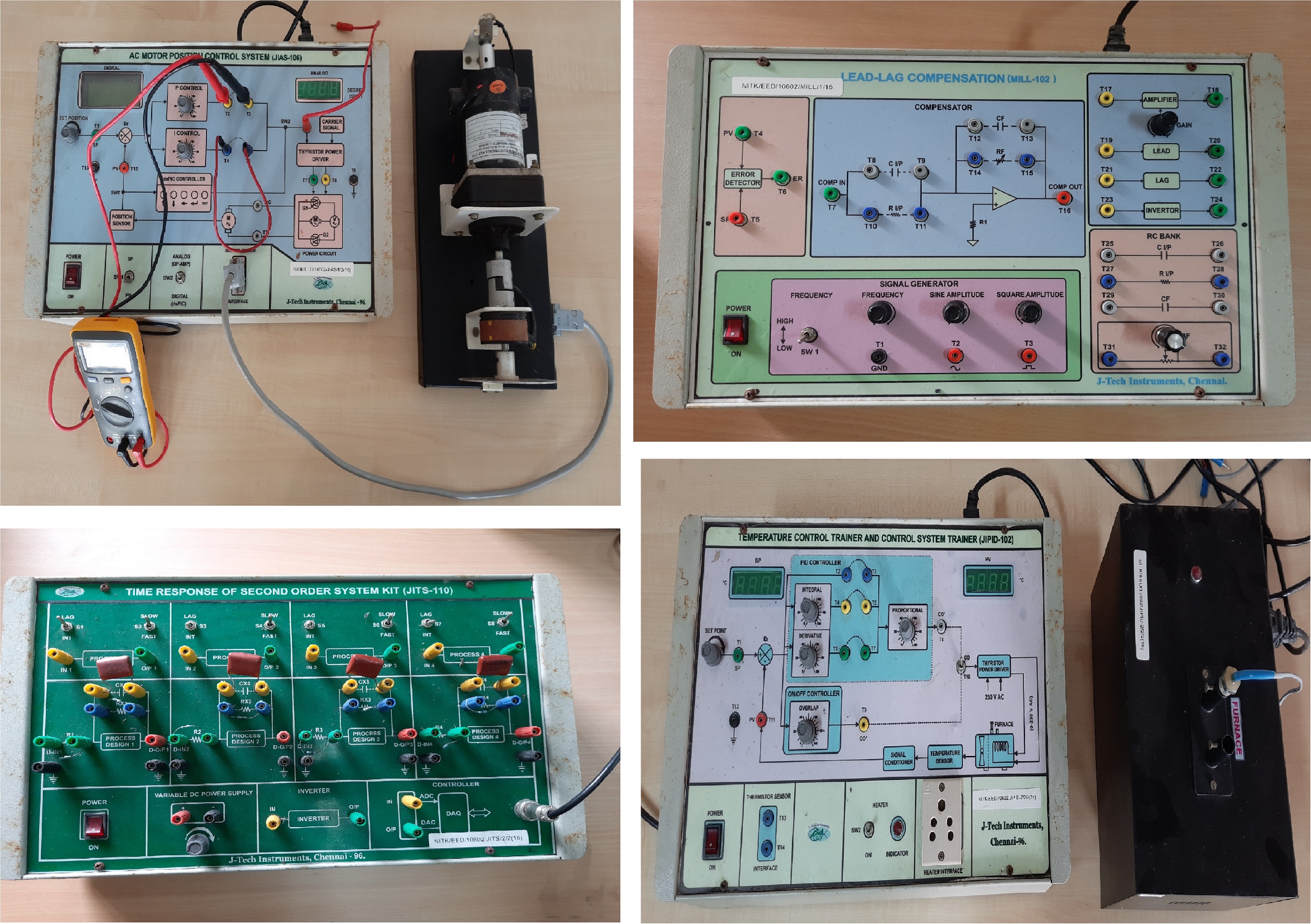 5. Electrical Machines (Induction Motors and Transformers) Lab: 
The experiments conducted on different types of machines enable students to practically see the operation and characteristics of the machines and their suitability for different applications.  List of Equipments: DC Generators and Motors Single Phase and Three Phase Transformers Single Phase and Three Phase Induction Motors Synchronous Machines Stepper Motors Servo Motors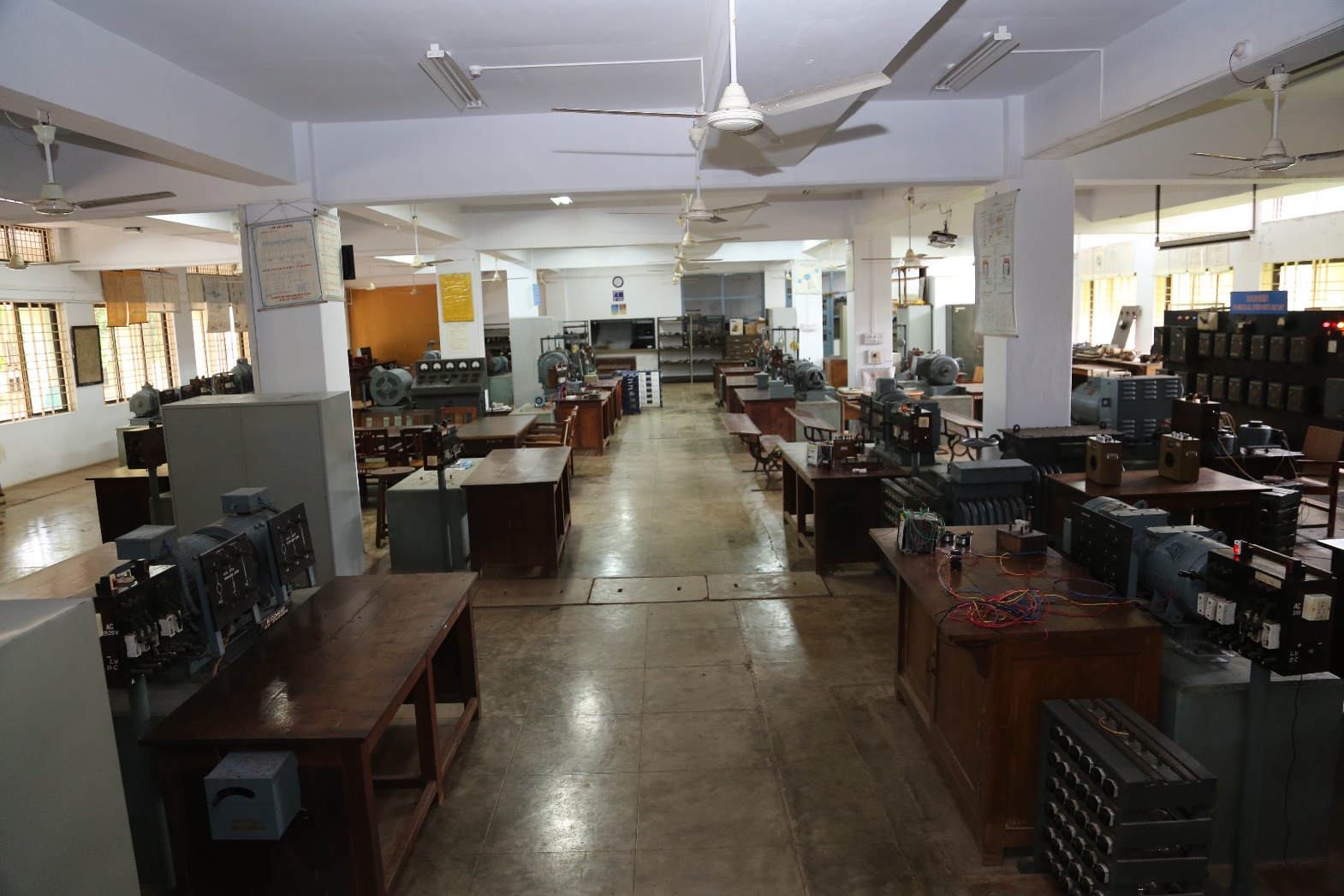 6. Electrical Machines (Synchronous Machines and DC Machines) Lab: 
The experiments conducted on different types of machines enable students to practically see the operation and characteristics of the machines and their suitability for different applications.  List of Equipments:
Four MG-Sets RLC-Loading Arrangements Synchronization Setup Thyristor Modules Data Acquisition Systems
7. Measurements and Instrumentation Lab: 
The set up established gives exposure to different measurement techniques of parameters in the Electrical and Electronics domain.Bridges for measurement of circuit parameter. List of Equipments: CT testing Unit Energy Meter Calibration Power Analyser Earth Resistance Measurement Setup Cable Test Measurement Setup Programmable Logic Controllers Remote Terminal Unit Distributed Control Systems LabView set up from National Instruments
8. Power Electronics Lab: 
The Modules in this lab facilitate building up of power electronic circuits for control of  different equipments used in the industry. List of Equipments: Thyristors and Gate Control Modules IGBTs Drive Control Unit DSP Based Controller Modules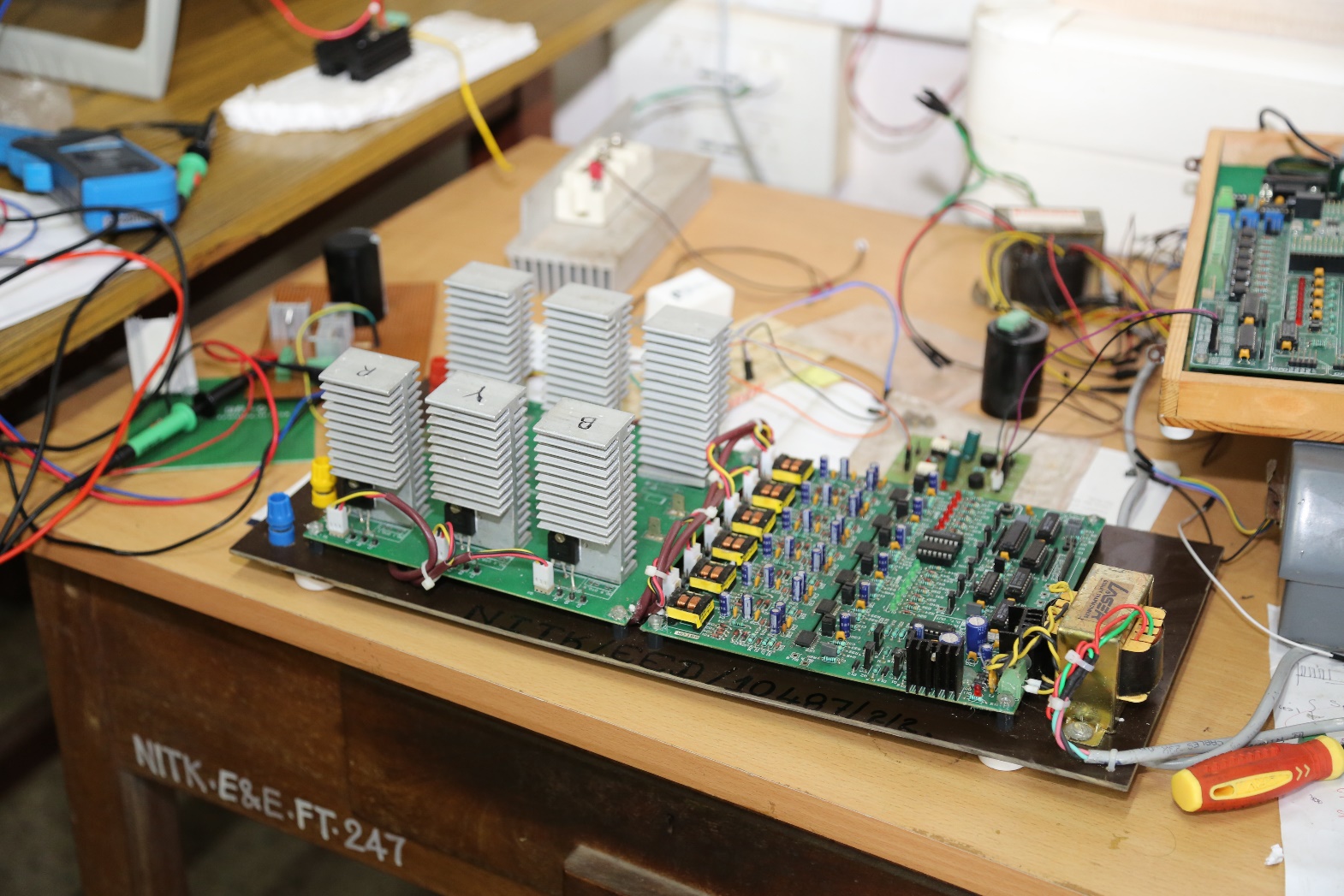 9. Power System Analysis (UG) Lab / Power System Modeling and Analysis (PG) Lab : 
It houses a scale down model of a 4-machine, 2-area power system where  DC machine-driven synchronous generators are inter-connected through panel arrangements. It supports UG/PG core labs as well as power system -related  research activities. List of Equipments: Four MG-Sets RLC-Loading Arrangements Synchronization Setup Thyristor Modules Data Acquisition Systems